Features
This website enables you to prepare for the Bike Theory Test by providing access to the following features all with professional voice over:
Practice and study learning programme
Comprehensive Practice and study learning programme incorporating the full Official DVSA data bank of Theory Test multiple choice practice questions and explanations for motorcycle riders
Plus 14 Case Studies one for each of the DVSA test categories
Theory Tests - Multiple Choice
14 Bike Theory Tests using the Official DVSA practice questions designed to be used as either an additional learning programme or as a final testing mechanism
Plus Unlimited randomly generated Theory Tests
Hazard Perception Tests
2 Hazard Perception Tests incorporating 26 Official DVSA hazard perception practice clips and 2 from LDC (i.e. 28 hazard video practice clips)
Plus 10 further Hazard Perception Tests (i.e. 140 hazard video clips) from training experts LDC
Full Highway Code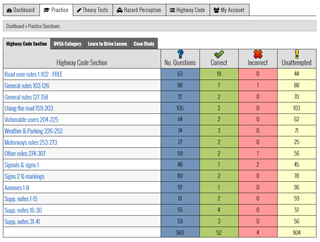 Practice and Study
Test yourself on each of the Official DVSA questions for motorcycle riders grouped into the 14 DVSA Theory Test Categories. Each question uses our unique traffic light progress system to help you quickly recognise which questions have been not been attempted, which have been correctly answered and which have not. This information is summarised and totalled for each of the 14 DSVA Categories.
If you are not sure of the answer use the Study button to find the theory behind the question including the DVSA's own Official knowledge and understanding text. Additional theory is provided through the Highway Code, Motorcycle riding the essential skills and our own supplementary notes.
14 Case Studies
The Case Study section provides 14 Case Studies each with 5 questions. There is a Case Study for each of the 14 different Official DVSA test categories.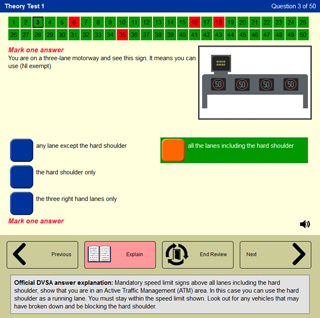 Motorcycle Theory Tests (Multiple choice)
14 Theory Tests with full test review
14 Bike multiple choice Theory Tests using Official DVSA practice questions, answers and explanations.
The 14 tests have also been specially configured so that they can be used as a learning programme - for those in a real hurry who want to undertake the minimum amount of preparation but still ensure test success. These 14 tests cover the key practice questions designed to cover every aspect of the theory that you need to know and understand. Therefore if you don't have time to complete the practice and study you can simply undertake these 14 tests.
Unlimited random Motorcycle Theory Tests
Unlimited randomly generated properly balanced multiple choice tests using Official DVSA practice questions, answers and explanations to give you the added comfort of knowing you are more than ready. Basically ensuring nothing is left to chance.
Hazard Perception
2 Hazard Perception Tests incorporating 26 Official DVSA practice clips
2 Hazard Perception Tests incorporating 26 DVSA hazard perception practice clips. The first test uses the original real life format DVSA practice hazard clips (currently used) and the second test also includes ten computer generated (CGI) hazard clips to help you get ready for the hazard perception tests of the future. The CGI clips are designed to look as close to real life as possible so don't be surprised if you can not spot the difference. In every other aspect the new test will be the same as the current test. Indeed, the CGI clips when introduced will simply be computer generated versions of the current real life clips used on the test.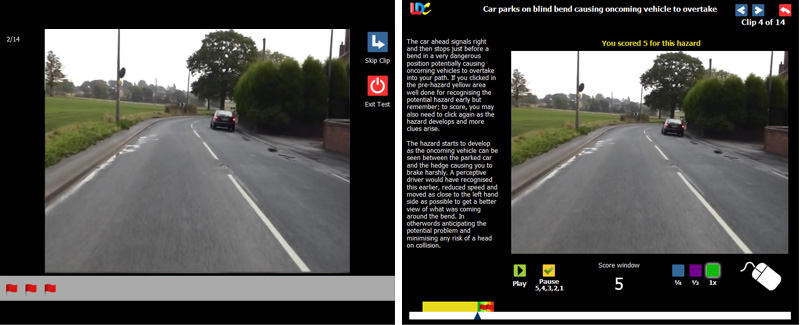 10 Additional Hazard Perception Tests (140 video clips)
Ten highly realistic additional Hazard Perception Test simulations to help you fully prepare for the hazard perception part of the Theory Test provided by training experts LDC. Each test contains 14 hazard clips to try out and review your score giving you an extra 140 hazard clips to practice with (i.e. 168 in total). No other online product offers you so many hazard clips of this quality.
Full Highway Code
Learn the Highway Code as you prepare for your Bike Theory Test and to help you learn to drive. Contains all the latest information.
If you are looking for the fastest way to prepare for and pass the Bike Theory Test why not give us a try? Take a test, register for a free trial or purchase access now
Browser support
To get the best results we would recommend the use of the following browser versions as a minimum:
Chrome 3
Internet Explorer 11
Firefox 3.2
Safari 3.1
Opera 10
Mobile device support
The majority of smart phones and tablets can run the multiple choice test preparation features. However, to run the Hazard Perception Test features online you need one of the following devices:
Android 3.1 phone or tablet
iOS 8 tablet